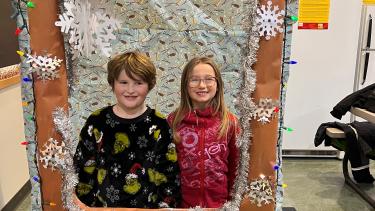 Winter Spirit and Celebration in December
January 4th 2023
Last week of school in December held a lot of activities to invoke spirit, inclusion and celebration:
Monday was Red and Green day.
Tuesday was Sweater day (ugly, festive, fancy - all were accepted).
Wednesday was Toque/Scarf/Hat day. 
Thursday started with a free pancake breakfast with Santa clause, then the Junior B Thundercats hockey team players joined students outside for recess break. Thursday continued with a hot lunch provided by the PAC. Two school performances occurred of our holiday concert, one at 1:00 p.m and an evening performance at 6:30 p.m. The students' singing, led by Mr. Davies, was fabulous, and it was great to have in person performances again!
Friday was PJ day as well as free Pizza lunch was provided for for everyone. There was even a Candy House Photo booth created for the week and staff and students got some great, fun photos that we can laugh about in the new year.
By December 16, everyone was ready for a winter break so we could rest up and get ready to take on 2023!